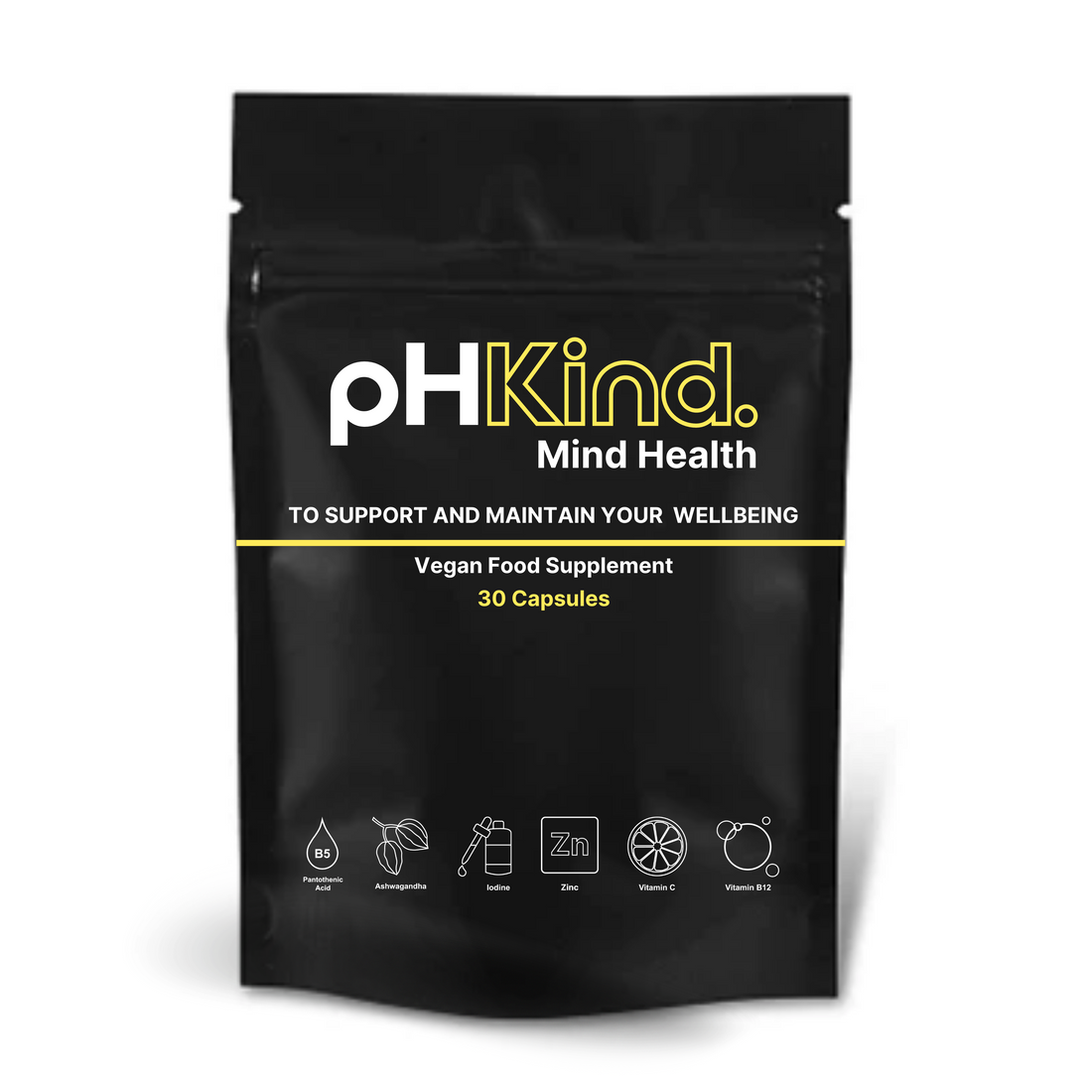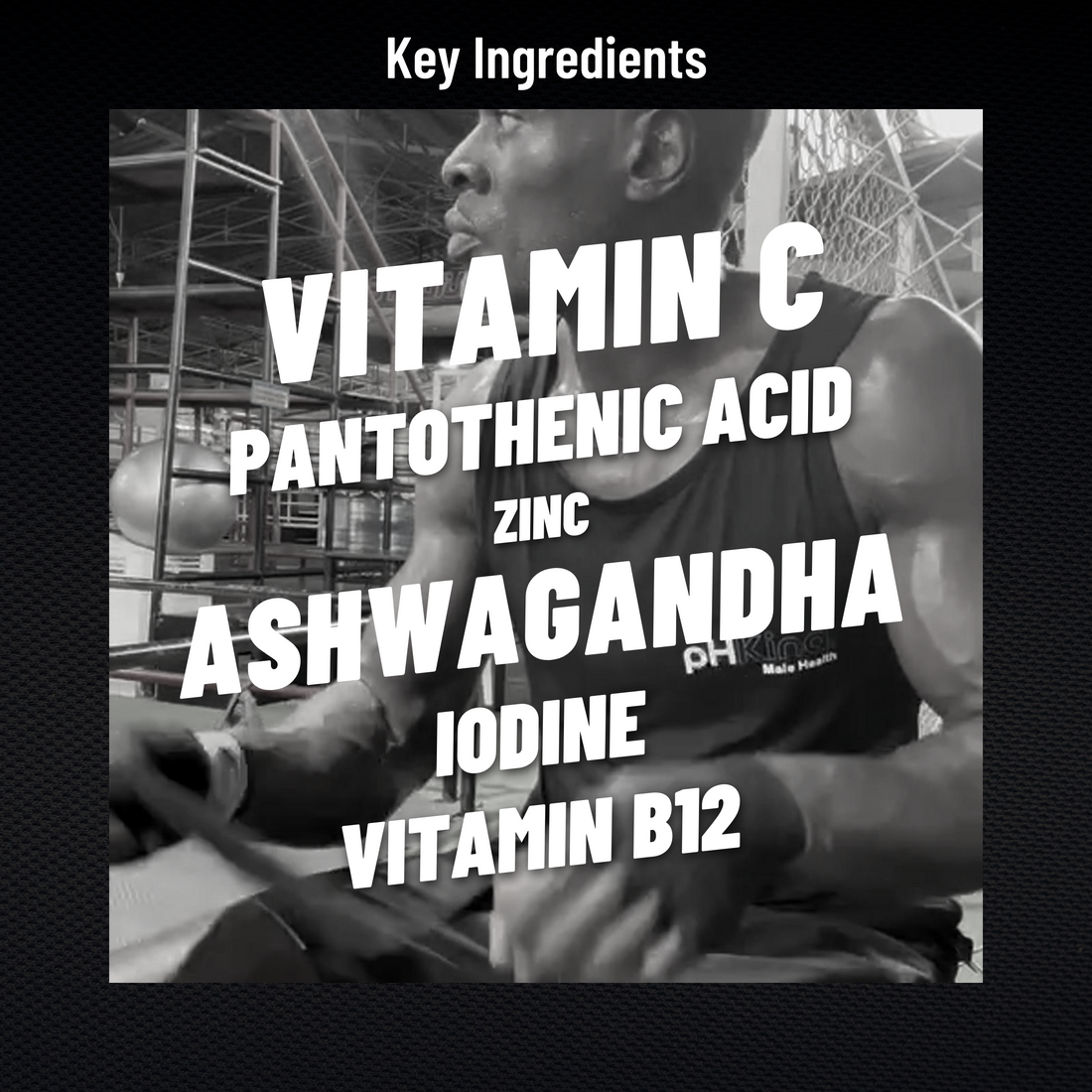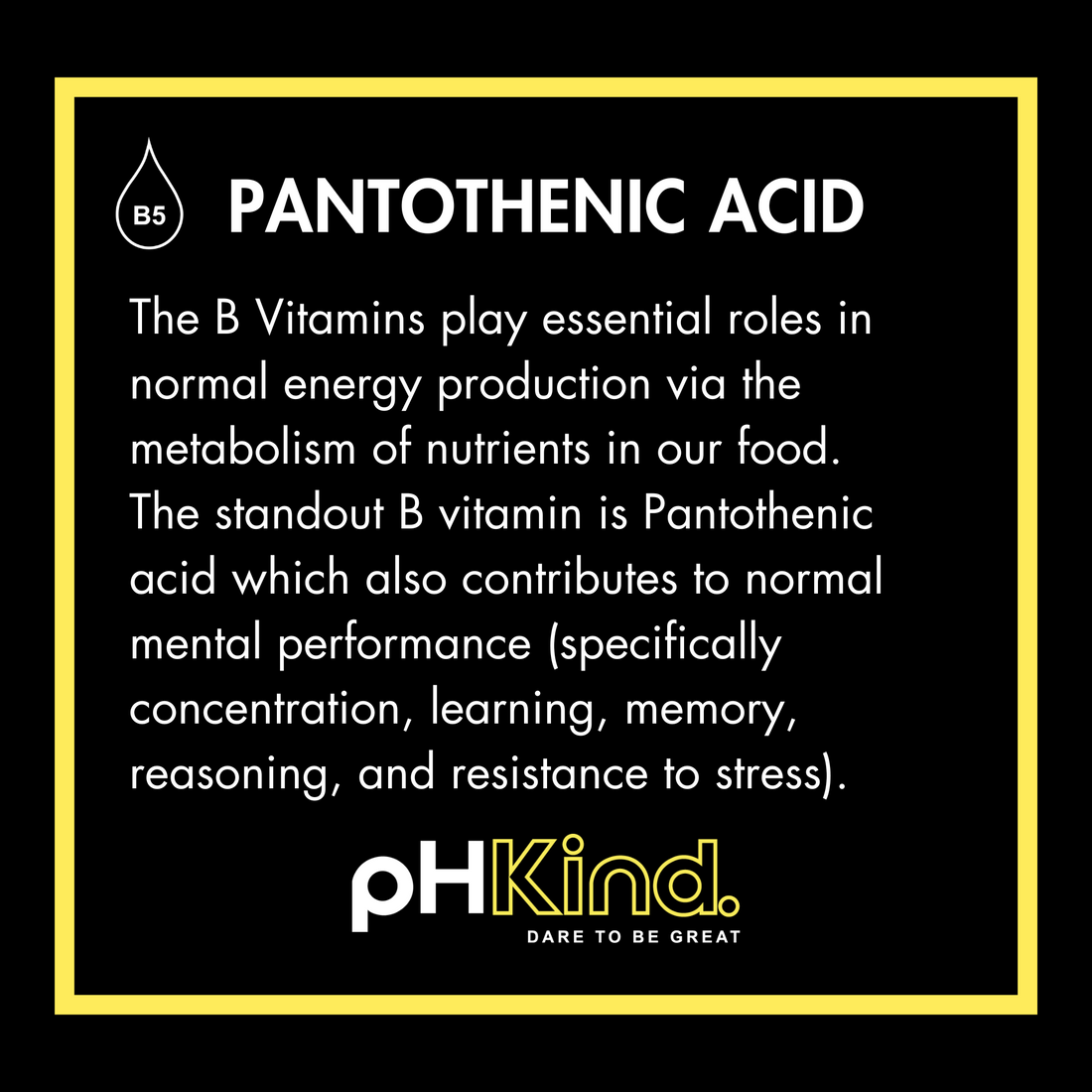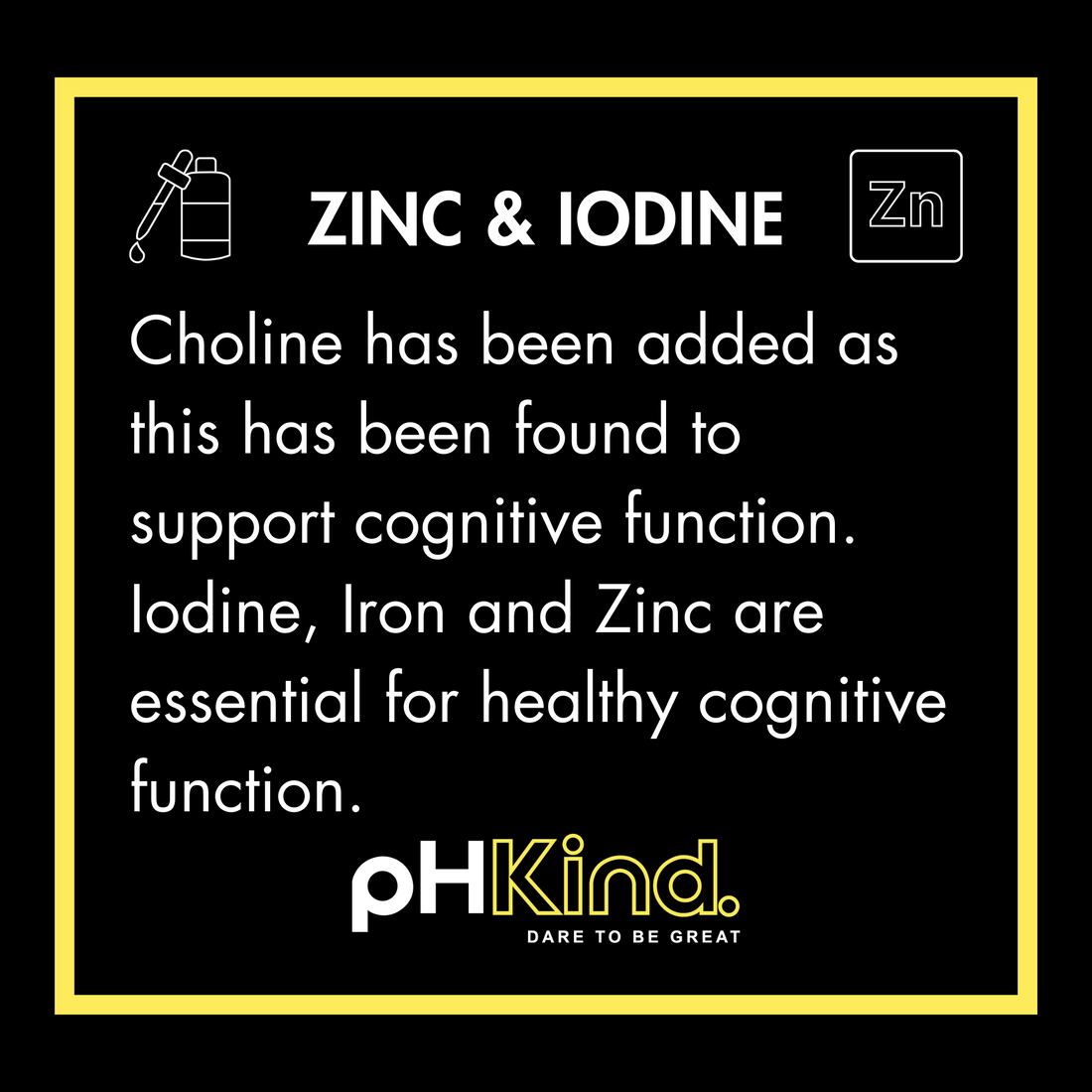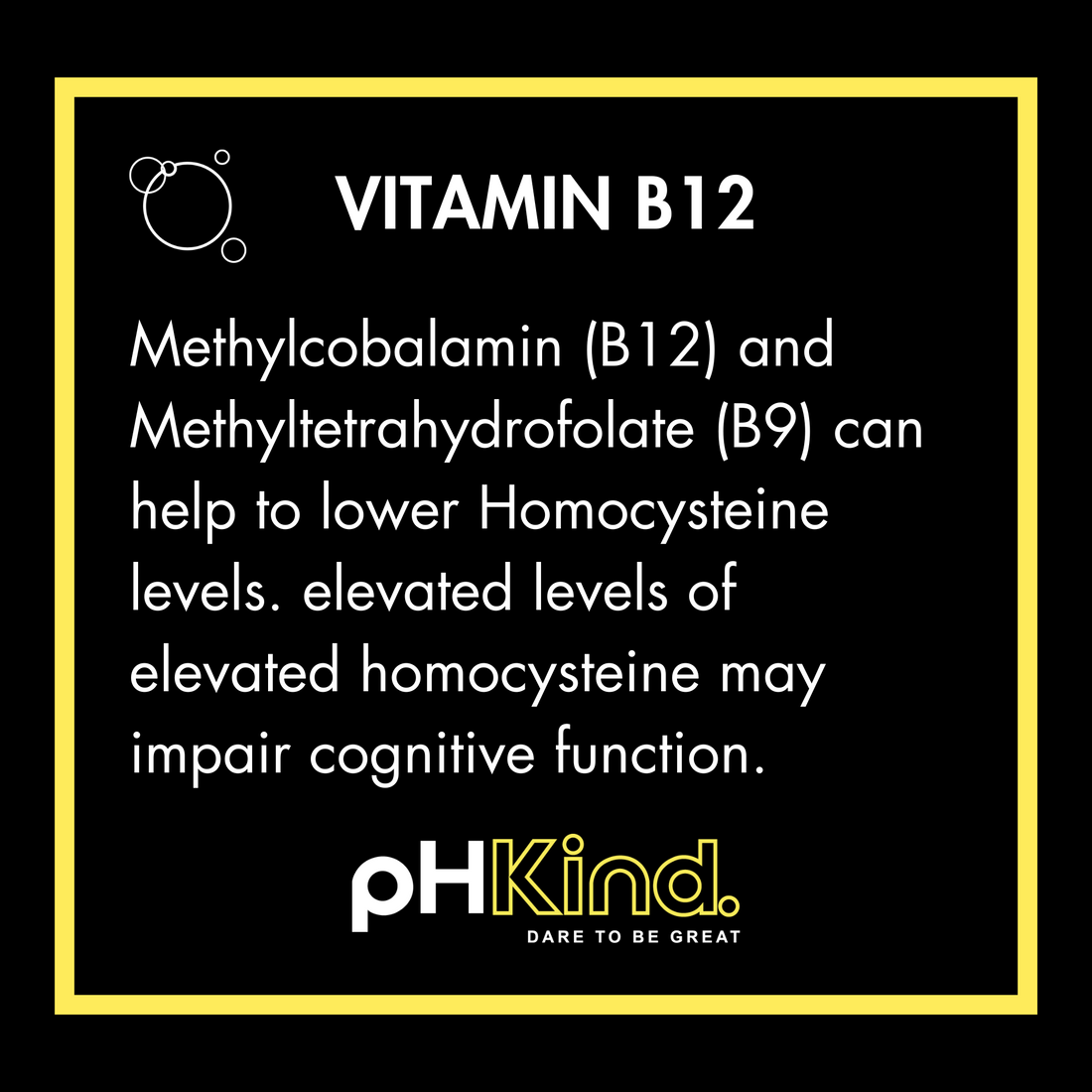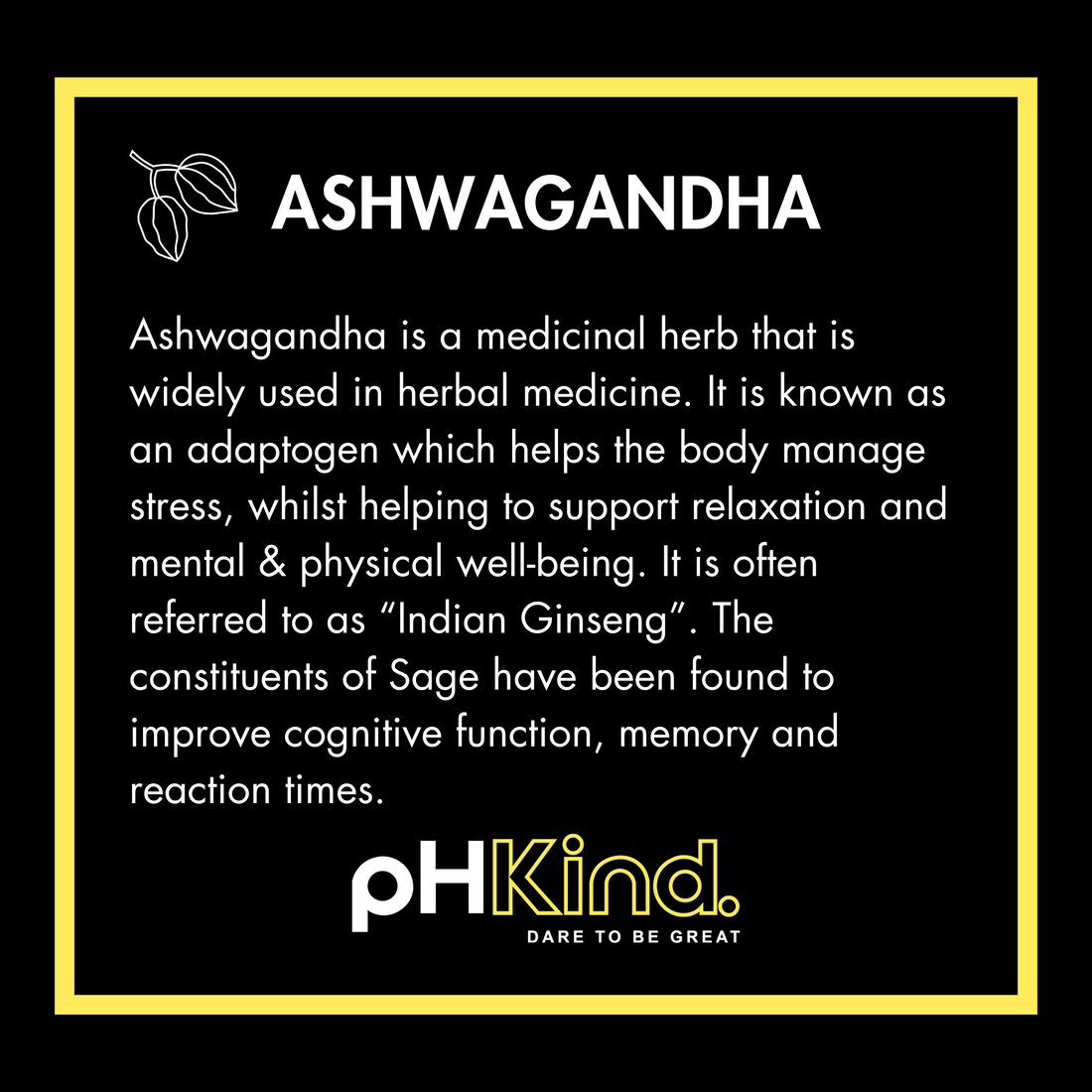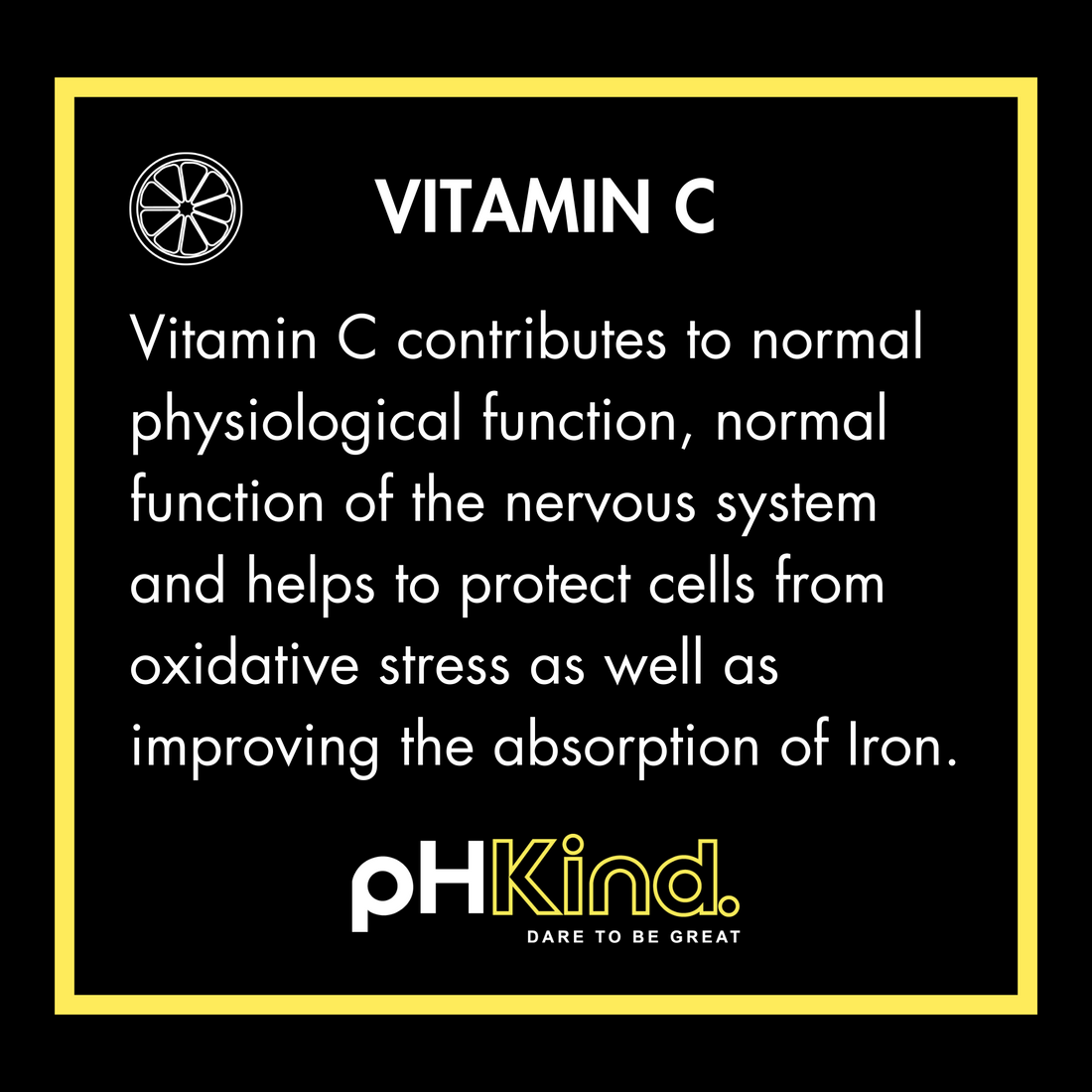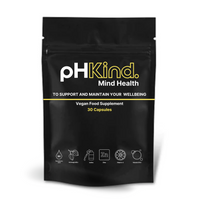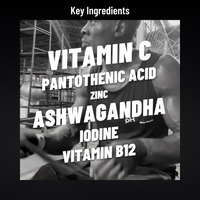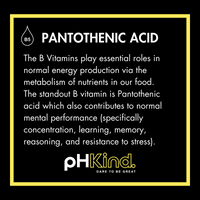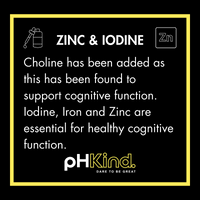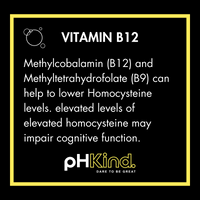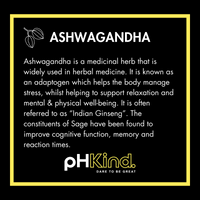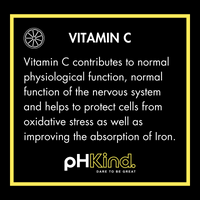 | Ingredient | Claim (per capsule) |
| --- | --- |
| Vitamin C | 160mg |
| Thiamin | 11mg |
| Riboflavin | 14mg |
| Niacin | 32mg |
| Vitamin B6 | 10mg |
| Folic Acid | 400mcg |
| Vitamin B12 | 25mcg |
| Biotin | 500mcg |
| Pantothenic Acid | 18mg |
| Iron | 7mg |
| Zinc | 5mg |
| Copper | 1mg |
| Iodine | 150mcg |
| Choline | 40mg |
| L-Tyrosine | 50mg |
| L-Theanine | 100mg |
| Ashwaganda Extract | 10mg Equivalent to Ashwaganda Powder 50mg Providing Withanolides 250mcg |
| Sage Extract | 50mg Equivalent to Sage Powder 250mg |
pHKind Mind Health Formula (30 Vegan Capsules)

A combination of nutrients (in optimum doses) to support the nervous system, improve cognitive function and help maintain optimum mental performance. Mental performance, concentration, memory and focus are all vital in modern life.

• Nourish your brain with natural nootropics
• Improve mental performance
• Helps reduce Homocysteine levels
• With added Ashwagandha to help manage stress
• Optimum doses for optimum mental performance
• Complementary blend of nootropics and adaptogens
• Gives your brain a boost of nourishment
• Helps maintain healthy stress levels
• Science backed ingredients
• Feel calmer and focused
• Reduces tiredness and fatigue
pHKind Mind Health contains a combination of 18 essential nutrients, in optimum dose, to support the nervous system, improve cognitive function and help maintain optimum mental performance. All of our nutrients have been studied and are proven to improve mental performance, concentration, memory and focus which are all vital in modern life.

Nourish your brain with natural nootropics
Improve mental performance
Helps reduce Homocysteine levels
With added Ashwagandha to help manage stress
Optimum doses for optimum mental performance
Complementary blend of nootropics and adaptogens
Gives your brain a boost of nourishment
Helps maintain healthy stress levels
Science backed ingredients
Feel calmer and focused
Reduces tiredness and fatigue
Key Ingredients:
Methylcobalamin (B12) and Methyltetrahydrofolate (B9) can help to lower Homocysteine levels to help maintain optimum cognitive function.
B Vitamins, including thiamine (vitamin B1), riboflavin (vitamin B2), niacin (vitamin B3), pantothenic acid (vitamin B5), folic acid and vitamin B12 all play a key role in maintaining a healthy nervous system. The B Vitamins also play essential roles in normal energy production via the metabolism of nutrients in our food.
Pantothenic acid contributes to normal mental performance (specifically concentration, learning, memory, reasoning, and resistance to stress). These are key benefits for maintaining healthy cognitive function.
Choline has been added as this has been found to support cognitive function. Iodine, Iron and Zinc are essential for healthy cognitive function.
Vitamin C contributes to normal physiological function, normal function of the nervous system and helps to protect cells from oxidative stress as well as improving the absorption of Iron.
L-Theanine is an amino acid that is a constituent of tea, and  has been found to improve concentration and support brain function. Studies have found that L-Theanine can improve attention and improve the outcome of working tasks (enabling better output). L-Theanine has also been found to improve attention and reaction times, especially in people who are prone to anxiety.
L-Tyrosine is an amino acid that is found in many foods, especially cheese, dairy foods, fish and chicken. Tyrosine helps the boy to make essential neurotransmitters: Dopamine, Adrenaline, Noradrenaline, Melanin and Thyroid hormones. This amino acid can help improve mental performance in stressful situations.
Ashwagandha is medicinal herb that is widely used in herbal medicine. It is known as an adaptogen which helps the body manage stress, whilst helping to support relaxation and mental & physical well-being. It is often referred to as "Indian Ginseng".
The constituents of Sage have been found to improve cognitive function, memory and reaction times. Studies also suggest that Sage extracts can help manage mild tro moderate dementia. Sage contains over 160 polyphenolic compounds which have antioxidant activity in the body.
Full Ingredients List
Vitamin C (Calcium Ascorbate), Capsule (Hydroxypropylmethylcellulose), L-Theanine, Choline (Choline Bitartrate), Safe Extract (Salvia Officinalis), L-Tyrosine, Niacin (Nicotinamide), Iron (Ferrous Bisglycinate), Pantothenic Acid (Calcium Pantothenate), Zinc (Zinc Citrate), Vitamin B6 (Pyridoxine 5 phosphate), Thiamin Hydrochloride, Riboflavin, Bamboo Silica, Ashwagandha Extract (Withania somnifera), Magnesium Stearate (Veg Source), Copper Bisglycinate, Folic Acid (5-Methyltetrahydrofolate), Biotin, Iodine (Potassium Iodide), Vitamin B12 (Methylcobalamin).
References:
https://www.cureus.com/articles/25730
https://pubmed.ncbi.nlm.nih.gov/11809447/
https://pubmed.ncbi.nlm.nih.gov/12605619/
https://www.ncbi.nlm.nih.gov/pmc/articles/PMC8080935/
https://www.sciencedirect.com/science/article/pii/S1756464611000351
https://pubmed.ncbi.nlm.nih.gov/17513421/
https://pubchem.ncbi.nlm.nih.gov/compound/L-tyrosine#section=Structures
One capsule once a day with or after food
Do not exceed the recommended intake. Food supplements should not be used as a substitute for a varied and balanced diet and healthy lifestyle. If you take any prescribed medication or have any medical condition, suffer from food allergies or are allergic to any of the ingredients please consult your healthcare practitioner before taking this product. Not suitable for children.