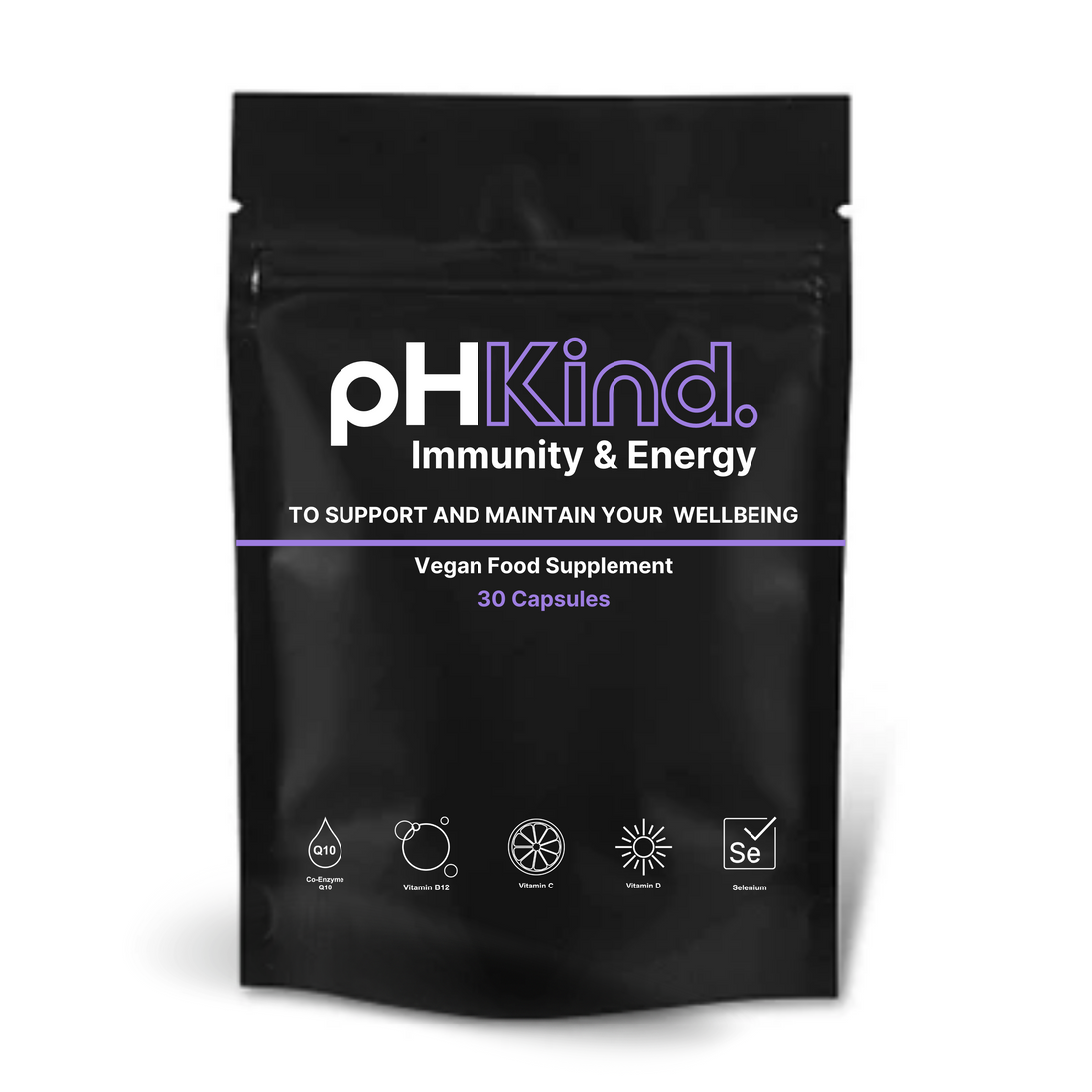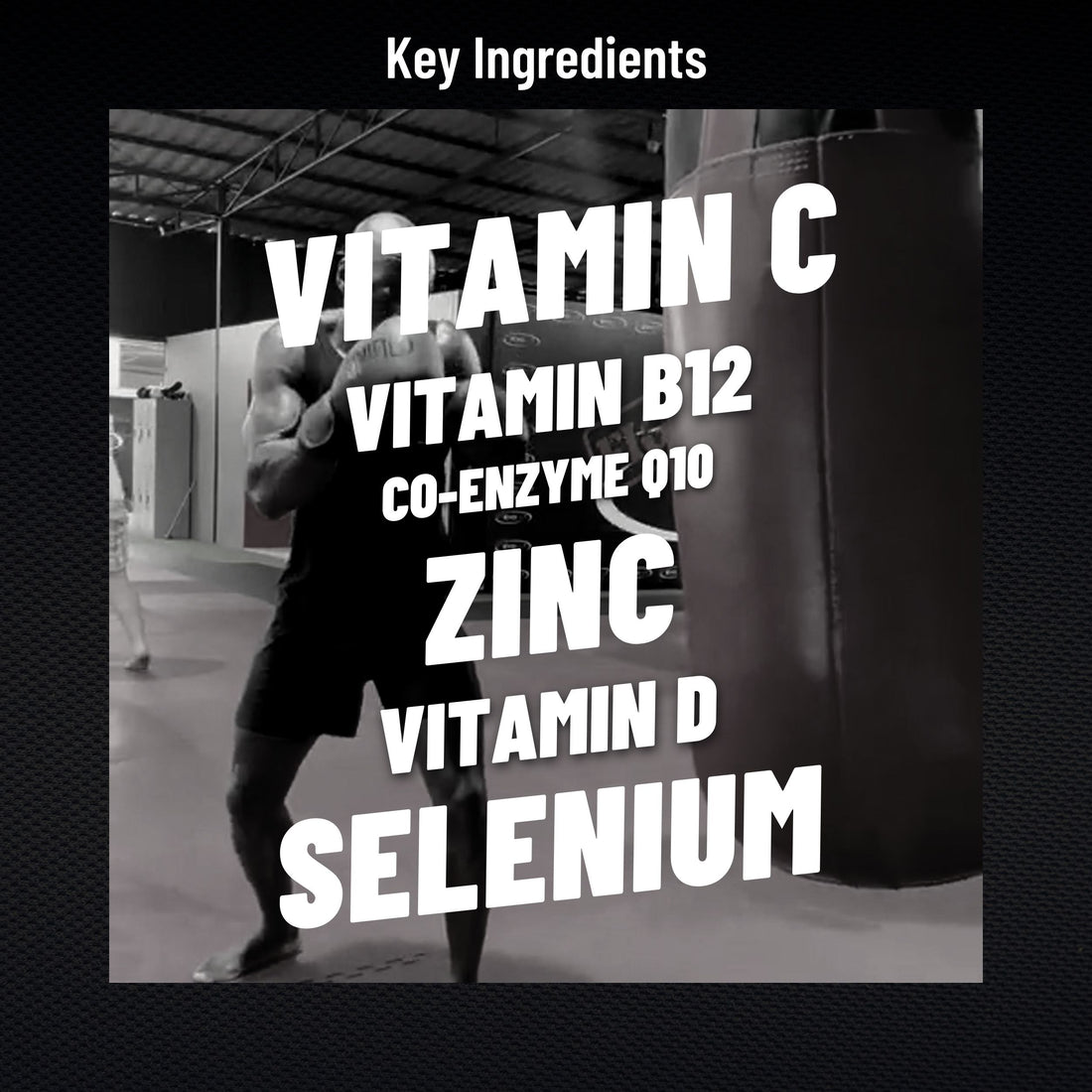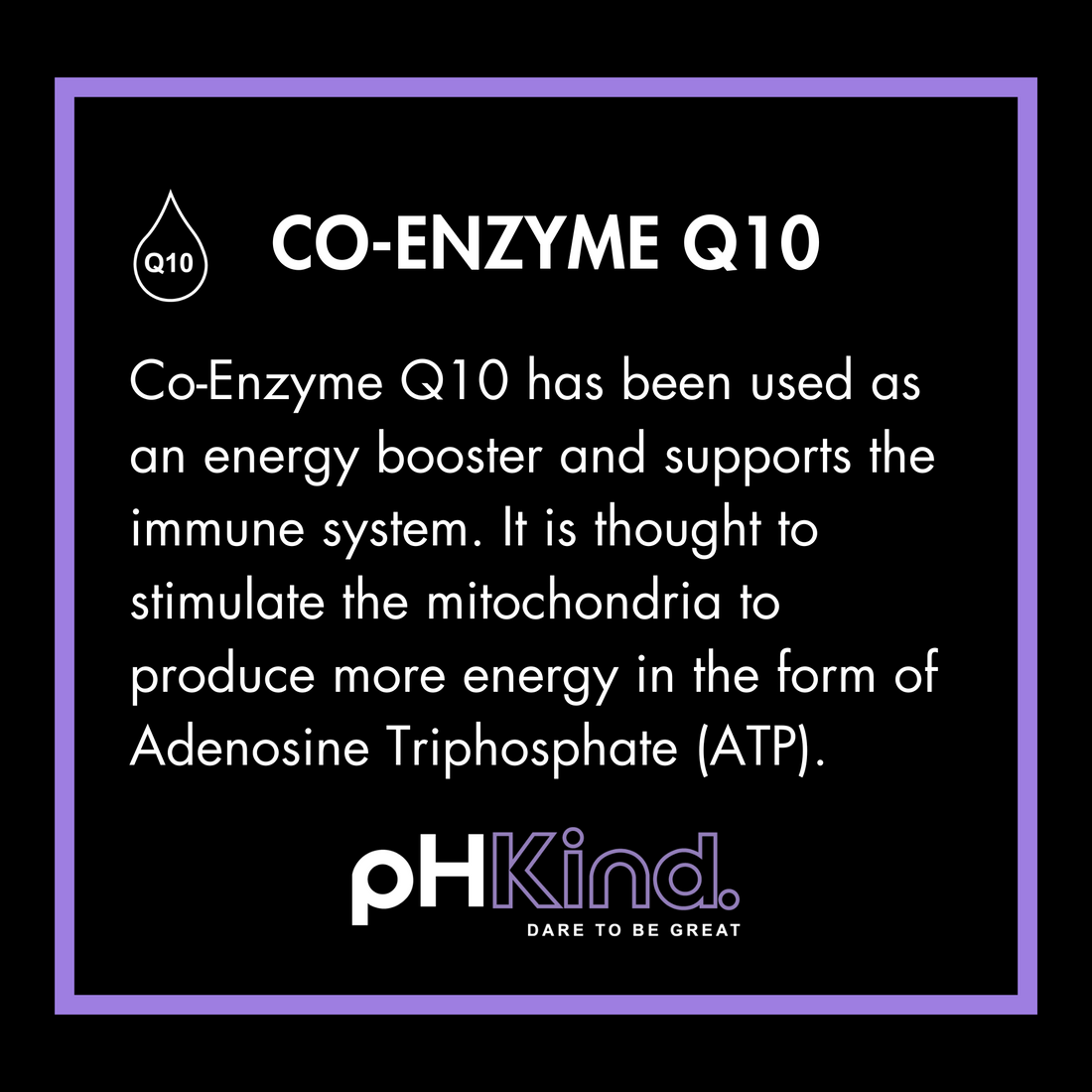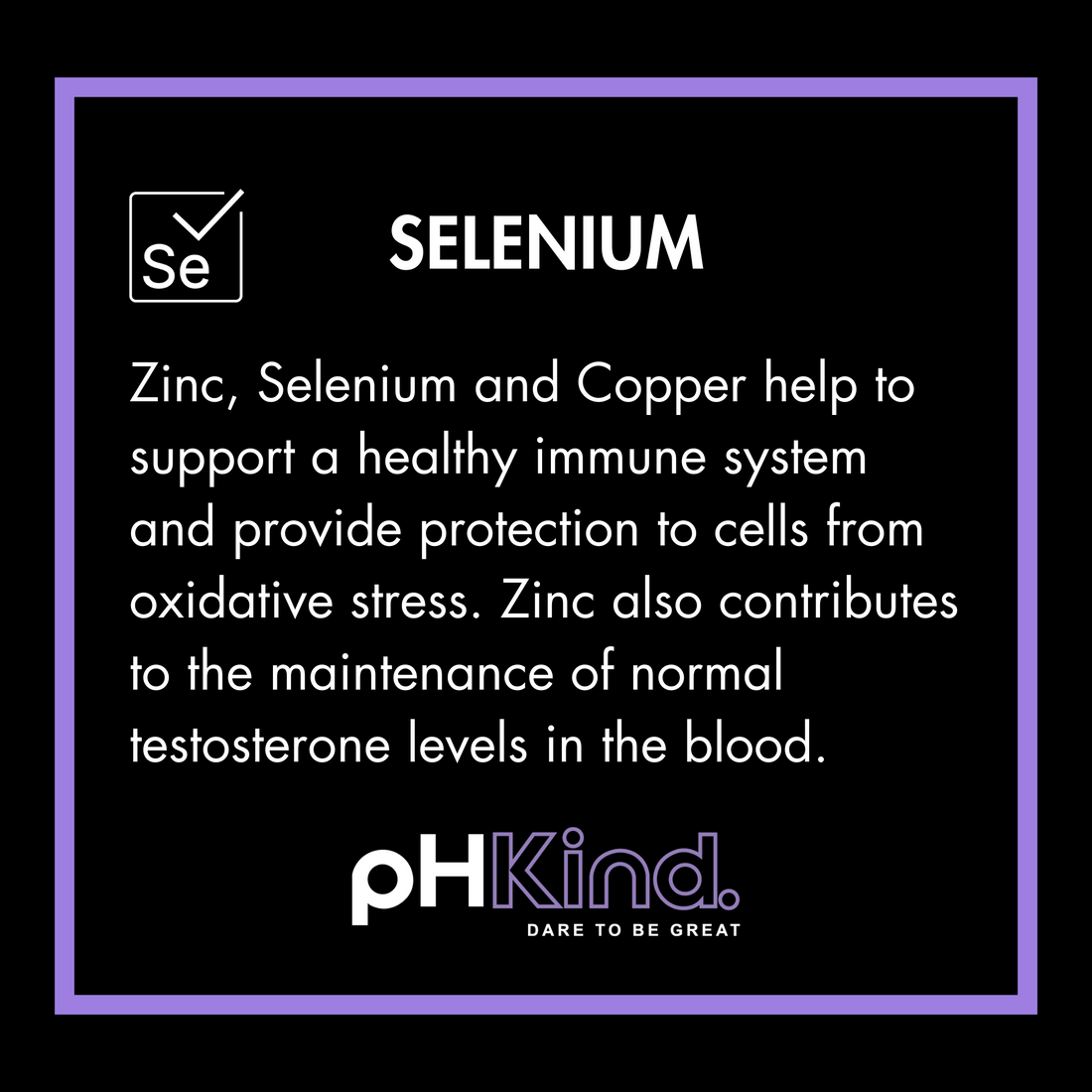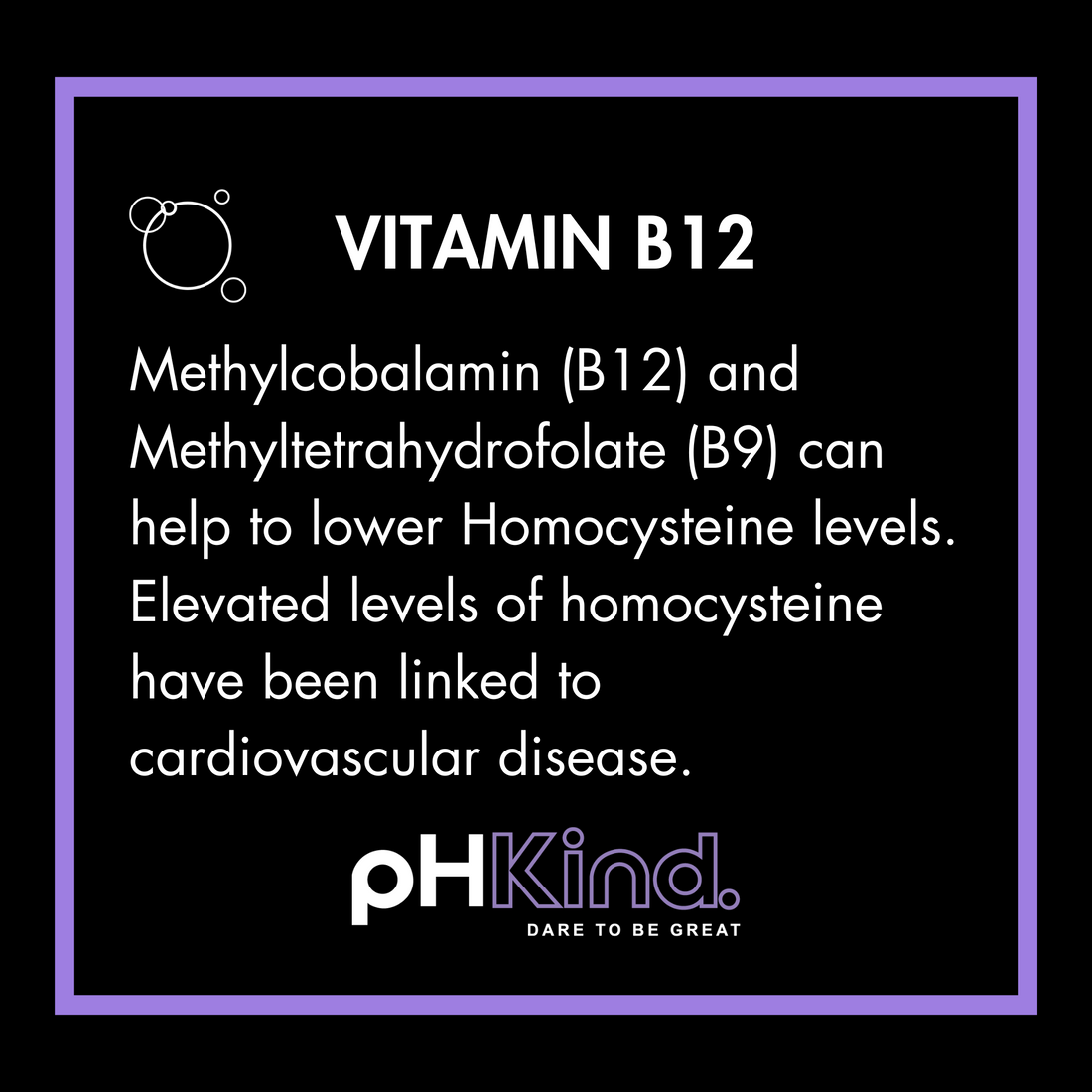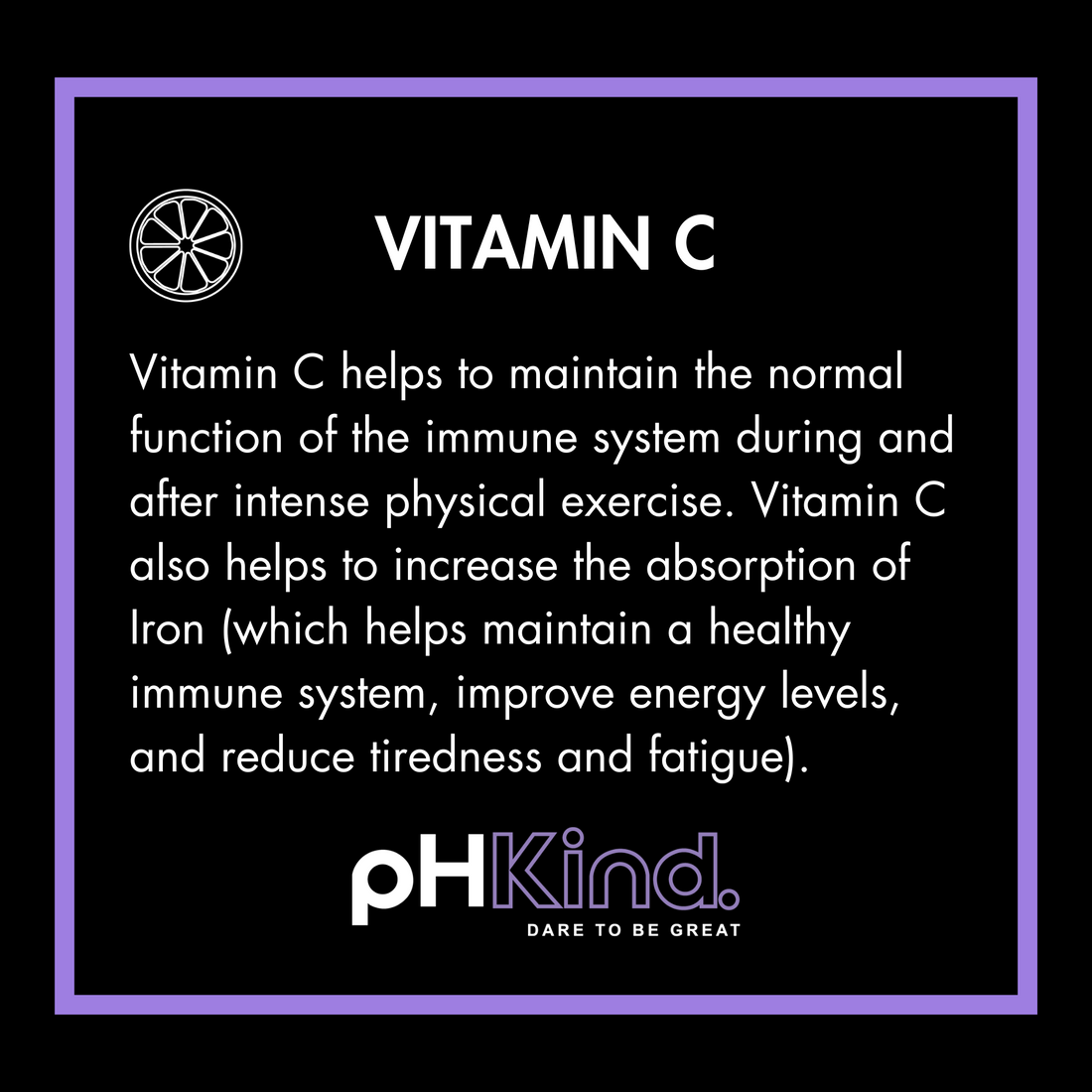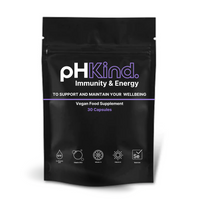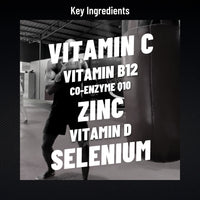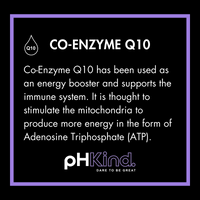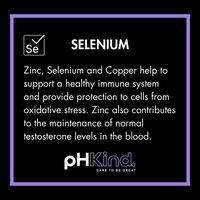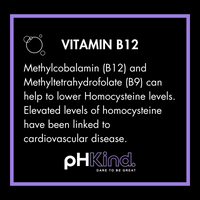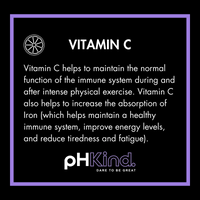 | Ingredient | Claim (per capsule) |
| --- | --- |
| Vitamin D (Vegan) | 50mcg (2000iu) |
| Vitamin K2 | 75mcg |
| Vitamin C | 240mg |
| Thiamin | 11mg |
| Riboflavin | 14mg |
| Niacin | 32mg |
| Vitamin B6 | 10mg |
| Folic Acid | 200mcg |
| Vitamin B12 | 500mcg |
| Biotin | 500mcg |
| Pantothenic Acid | 18mg |
| Iron | 7mg |
| Zinc | 20mg |
| Copper | 1mg |
| Selenium | 110mcg |
| Co Enzyme Q10 | 100mg |
| Black Elderberry Extract | 3.3mg Equivalent to Black Elderberry Powder 100mg |
pHKind Immunity + Energy Formula (30 Vegan Capsules)

A 2 in 1 product, helps support immunity and energy levels throughout the day. A synergistic blend of ingredients to support the immune system and provide optimum energy levels for training and performance. The B vitamins (in optimum doses) are essential for efficient energy metabolism and maintaining optimum energy levels throughout the day.

•Helps maintain a healthy immune system
•Daily energy boost
•More energy at the gym
•100mg of Co-Q10 to give you a kick start
•Helps reduce Homocysteine levels
•Each capsule contains 2000IU of Vitamin D3 alongside
•75mcg of Vitamin K2
A 2 in 1 product, helps support immunity and energy levels throughout the day. A synergistic blend of ingredients to support the immune system and provide optimum energy levels for training and performance. The B vitamins (in optimum doses) are essential for efficient energy metabolism and maintaining optimum energy levels throughout the day.
Key Ingredients 
B Vitamins, including thiamine (vitamin B1), riboflavin (vitamin B2), niacin (vitamin B3), pantothenic acid (vitamin B5), folic acid and vitamin B12. The B Vitamins play essential roles in normal energy production via the metabolism of nutrients in our food.
Methylcobalamin (B12) and Methyltetrahydrofolate (B9) can help to lower Homocysteine levels. Elevated levels of homocysteine have been linked to cardiovascular disease.
Vitamin C helps to maintain the normal function of the immune system during and after intense physical exercise. Vitamin C also helps to increase the absorption of Iron (which helps maintain a healthy immune system, improve energy levels, and reduce tiredness and fatigue).
Iron also helps to transport oxygen around the body resulting in improved energy levels. We have used Bisglycinate, as it is easier on the stomach and has higher absorption than other iron preparations.
Vitamin D is a key supplement for a healthy immune system. Vitamin K2 has been added to improve the absorption of vitamin D and helps keep bones strong and healthy.
Zinc, Selenium and Copper help to support a healthy immune system and provide protection to cells from oxidative stress. Zinc also contributes to the maintenance of normal testosterone levels in the blood.
Co-Enzyme Q10 has been used as an energy booster and supports the immune system. It is thought to stimulate the mitochondria to produce more energy in the form of Adenosine Triphosphate (ATP).
Black Elderberry extract (Sambucus Nigra) is naturally high in vitamin C and protects against oxidative stress. Numerous studies have investigated the role of Black Elderberry extract in supporting the immune system.
Full Ingredients List:

Vitamin C (Calcium Ascorbate), Capsule (Hydroxypropylmethylcellulose), Co Enzyme Q10 (Ubiquinone), Zinc (Zinc Citrate), Niacin (Nicotinamide), Iron (Ferrous Bisglycinate), Vegan Vitamin D3 (Vitashine Lichen Extract Powder), Selenium (L-Selenomethionine), Pantothenic Acid (Calcium Pantothenate), Bamboo Silica, Vitamin B6 (Pyridoxine 5 phosphate), Vitamin B1 (Thiamin Hcl), Vitamin B2 (Riboflavin), Natural rice extract (NuMag), Vitamin K2 (menaquinone), Copper Bisglycinate, Black Elderberry Extract, Vitamin B12 (Methycobalamin), Biotin, Folic Acid (5-Methyltetrahydrofolate).
References:
https://bmccomplementmedtherapies.biomedcentral.com/articles/10.1186/s12906-021-03283-5
https://pubmed.ncbi.nlm.nih.gov/14656035/)
https://www.lboro.ac.uk/news-events/news/2020/may/eis-can-supplements-boost-your-immune-system/k)
 https://pubmed.ncbi.nlm.nih.gov/10596768/tions in human plasma - PubMed (nih.gov)
https://www.ncbi.nlm.nih.gov/pmc/articles/PMC2315638/nce in both trained and untrained individuals - PMC (nih.gov)
One capsule once a day with or after food
Do not exceed the recommended intake. Food supplements should not be used as a substitute for a varied and balanced diet and healthy lifestyle. If you take any prescribed medication or have any medical condition, suffer from food allergies or are allergic to any of the ingredients please consult your healthcare practitioner before taking this product. Not suitable for children.